---
This child was stolen from her crib!!
She is missing and in danger!!
This beautiful baby is Sabrina Aisenburg. She was taken from her home in a Tampa community in the middle of the night the day before Thanksgiving. Her parents reported that she was fine when they checked on her before they went to bed around midnight, and when her mother checked on her at around six a.m., she was nowhere to be found. No one was awaken by any noise during the night, not even the family dog. Please look thru these sites to read about her and her family's story You will also find some information on the investigation, and, yes, the investigation does include questioning of the parents' seemingly suspicious story........ Maybe YOU can help return her to her family, safe and unharmed!
INFORMATION ON SABRINA:
Date of Birth - 6/27/97
Date Missing - 11/24/97
Missing from - Brandon, FL
L.E.A. - Hillsborough County Sheriff Dept
Contact - Detective Jim Caimano
Telephone Number - 1(813)247-8688
or Florida Dept of Law Enforcement - 1(888)356-4774


Sabrina Ainsberg Task Force
Contact - Detective Ken Hoskins
Telephone Number - 1(813)247-8915
Toll Free 1(888)461-8477
Fax # 1(813)247-8750 - Attn: Sabrina Aisenberg Task Force
Hotline: 1-813-247-8685
Hillsborough P.D: 1-813-247-8200
Crime Stoppers: 1-800-873-tips (8477)

ID Info - NCIC #M-078309557. Sabrina is a white female, 2'6" tall, weighs 20 pounds, has brown hair and blue eyes. She was wearing a lavender one piece sleeper with a floral pattern and has a blue and yellow handmade blanket.
Identifying birthmarks: Sabrina has dots shaped like a "Y" below her right shoulder.
| | |
| --- | --- |
| Sabrina's parents | Sabrina |
---
Sabrina Aisenburg and related links
Please go to this site to read all about baby Sabrina's story, a list of links to related articles are also on this page
Excellent summary of investigation updates, and links to related articles
The search for Sabrina: Story Archives
Missing Sabrina: Story Archives
The Aisenbergs' appearance on NBC
An ABC news report
This site is a list of "news around the net", includes articles related to Sabrina's investigation
Missing Children Information Clearinghouse
Go to this site to search other missing children picture's and info
---
Children Missing

Organization

Support the

"Children Are Worth Saving"

Community Outreach Program
---
<!END Sabrina Paige Aisenberg Ring>


This Java Applet Banner will run continuously, displaying the 13 Missing Children Alert Cases. Clicking on the photograph will bring up the Alert Page with more information, and the ability to print posters. Clicking on the Blue Marquee Message will connect to the NCMEC home page.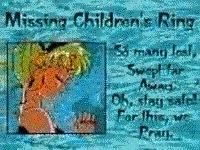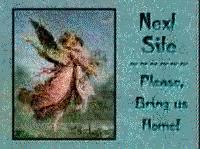 This
Missing Children's Ring site is owned by Cibil Click for the [ Next Page | Previous | Next 5 ] Want to join the ring? Click here for info.
These ring graphics created by Maeve A most wonderful, kind and generous soul! If the Ring is not working you may click HERE This will take you to a listing of all the ring members with links to their sites so that you may surf them.
---
AWARDS
(awards this site has won)
I hope that these awards will bring more people to this site, and maybe, just maybe, someone will have seen one these missing children.
| | | | |
| --- | --- | --- | --- |
| Febuary 8, 1998 | Febuary 8, 1998 | Febuary 8, 1998 | Febuary 8, 1998 |
---
Click on the image to apply for
Cibil's "Angels Watching Over the Children" Award
---
(Special thanks to Roger Prince for designing this
banner which is displayed in the Webman Exchange)

---
This page dedicated to Sabrina Aisenburg and other missing children has been visited
times. Thank you, you may be able to help bring these children back home where they belong.